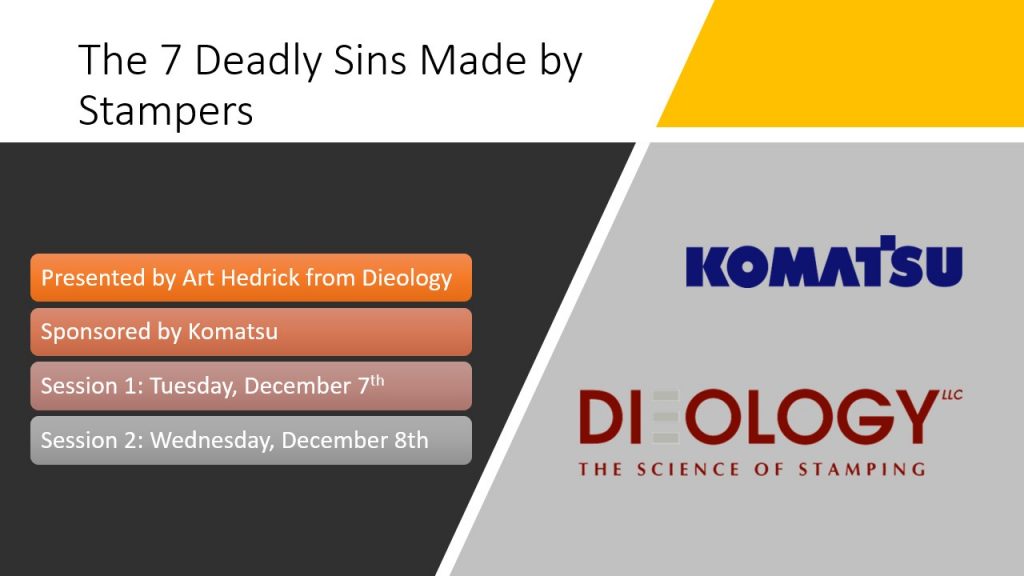 The Schedule
Session 1: Tuesday, December 7th
Session 2: Wednesday, December 8th
*Each session will go from 9AM – 11AM CST
The Sins
Viewing die design and building methods as an "art form".
Not understanding the impact of the material on the process.
Ignoring the impact of the press with respect to success.
Engineering and building a marginal process.
Letting the press size and tonnage determine your process steps.
Controlling metal flow using blank holder pressure.
Not taking the time to educate press operators and die technicians.
The Purpose
The purpose of this special two part educational webinar is to cover the most common mistakes made by stampers. All too often, poor decisions are made resulting in high scrap rates, tooling and press damage, poor quality dies and tools, unnecessary die repair as well as chaos and frustration.
About the Speaker
Art Hedrick is the owner of the training and consulting firm Dieology, located in Greenville, Michigan U.S.A. He is a journeyman tool and die maker with over 40 years of metalworking experience. For over 23 years, Art has been the author of the Die Science column printed in The Stamping Journal ® and has authored numerous articles published on The Fabricator.com®   Art, a past instructor at General Motors University, has been the recipient of many training & education awards. He has held chairmen positions of stamping councils with the Society of Manufacturing Engineers as well as Fabricators and Manufactures Association. Art has conducted over 300 stamping, product design, and tool and die related seminars for trade organizations and private companies. Currently he has over 175 clients in the auto, appliance, hardware, defense, electronics, space exploration and commodities industries. Art is active in metal stamping training and consulting world-wide.