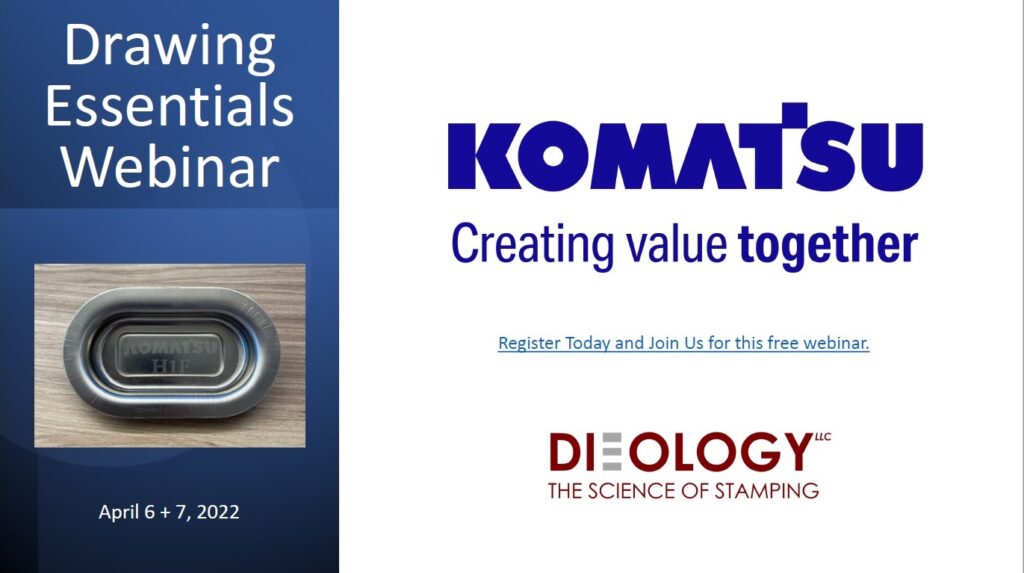 The Schedule
Session 1: Wednesday, April 6th
Session 2: Thursday, April 7th
*Each session will go from 9AM – 11AM CST
The Agenda
Session 1
1) Define the difference between drawing and stretching the metal.
2) Basic draw die nomenclature and function.
3) Factors that control the drawing and stretching of the metal.
4) The importance of knowing your metals drawing and stretching properties.
Session 2
1) Controlling metal flow / stretch
2) Lubricate basics
The Purpose
This webinar will help any customer that does stamping work, and not only the drawing portion of work.
However those that do any type of drawing, especially deep drawing, whether it be small or large parts will greatly benefit from the information.
Drawing and deep drawing use the same principles, however deep drawing usually refers to when the height of the part must be taller than the width.
The webinar will contain the below information that will be helpful to you and your customers.
Day 1 will define the difference between drawing and stretching and will discuss material properties that can be used not only in drawing applications but in punching, bending, forming, and many other applications.
Day 2 will focus on the drawing operations itself. We will discuss the topic of controlling the metal flow and lubricant basics. We will be utilizing the Komatsu H1F200-2 and our own demo tool to discuss the drawing process.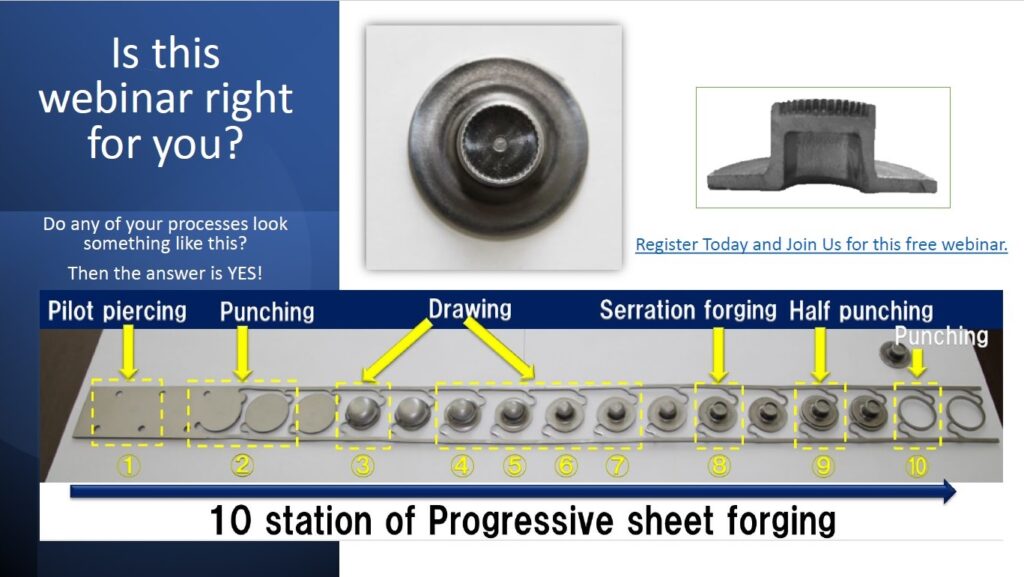 About the Speaker
Art Hedrick is the owner of the training and consulting firm Dieology, located in Greenville, Michigan U.S.A. He is a journeyman tool and die maker with over 40 years of metalworking experience. For over 23 years, Art has been the author of the Die Science column printed in The Stamping Journal ® and has authored numerous articles published on The Fabricator.com® Art, a past instructor at General Motors University, has been the recipient of many training & education awards. He has held chairmen positions of stamping councils with the Society of Manufacturing Engineers as well as Fabricators and Manufactures Association. Art has conducted over 300 stamping, product design, and tool and die related seminars for trade organizations and private companies. Currently he has over 175 clients in the auto, appliance, hardware, defense, electronics, space exploration and commodities industries. Art is active in metal stamping training and consulting world-wide.