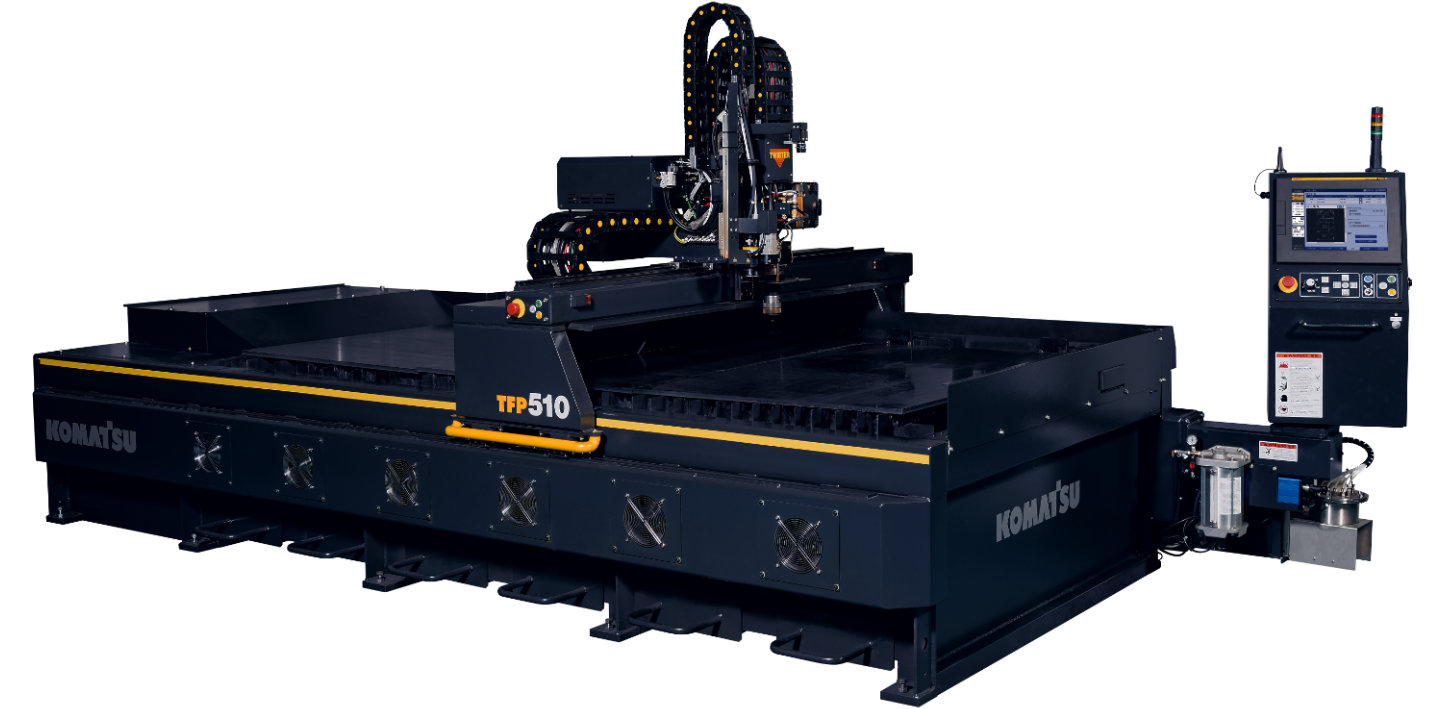 KOMATSU has succeeded in creating a machine that can keep up with the industry's demands regardless of metal type or thickness, without having to sacrifice quality. The TFP 3 series plasma cutting machine is an innovative precision plasma cutter that features lower running cost, high performance, and higher productivity, achieving major improvements when cutting steel plate from 0.25in.-1.50in. when compared to conventional systems.
Our "TWISTER gas flow control" (Patent Pending) technology allows the disparity between upper- and lower-hole size to reduce substantially, creating a cleaner and closer tolerance on every hole. Our patented TWISTER gas technology (No.2689310, No.2997224) pushes a powerful downward spiral flow around the arc, reducing the amount of dross produced on every part.
Thanks to our redesigned plasma torch, we have created a significant advance in plasma cutting technology. Our TFP & TFPL 3 series machines come with an innovative torch design that allows you to go from Plasma to Oxyfuel cutting on the same torch in a matter of minutes. Our unique "Single Cartridge" consumable has an increased cut quality and accuracy that has been obtained thanks to its exclusive nozzle design and new cutting process. The 1 piece set up reduces time and inventory from 6 individual parts to 1. It offers a 60% increase in consumable life when compared with our old style, that is more than double the productivity, with increased performance and less operator intervention.
Technology in the TWISTER TFP & TFPL Series is protected by US Patents, and other Patents Pending.
Specifications
Construction
• Unitized frame
Table Size
• 5'×10′ • 6'×12′
Cutting Speeds
• 0 to 200″ (process and plasma power source may affect speeds)
Maximum Traverse Speeds
• 1000 IPM.
Table Type
• Zoned down draft table with KOMATSU "Push Pull" design.
Rails
• X & Y axis are Rack & Pinion + THK, heavy duty linear guide bearings.
• Z axis is a Ball Screw & THK, heavy duty linear guide bearings.
Motors / Gearbox
• FANUC AC Servo motors and Gearboxes on all drives (O% Backlash).
CNC Controller
• Fanuc, Oi-Mf Plus CNC Control. 15" touch screen. 2MB NC Memory, 4GB Main memory, 64GB External device.
• FANUC transfer tool via server.
• USB memory
Cutting Capability
• 200-amp Plasma Unit- 16 Gauge to 1.25″ Mild Steel.
• 300-amp Plasma Unit- 16 Gauge to 1.5″ Mild Steel.
Quick Gas (Flame Cutting)
• 2" piercing, 3" edge start from the side of the plate.
Nesting Software
• STRIKER CAD/CAM Smart Nesting Software, Model SS-NEST.
NOTE: Original KOMATSU Nesting Software included with the equipment, as well as permanent license key.
Machine Photos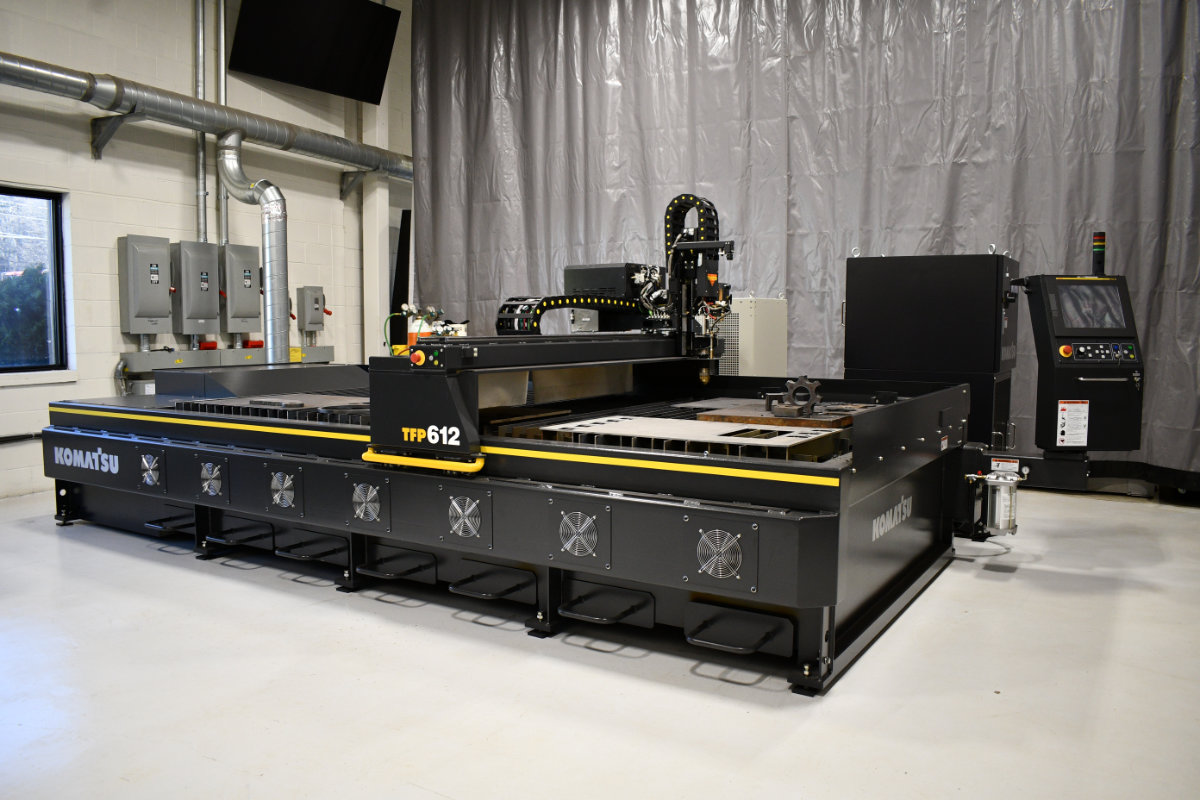 Available Upgrades
Quick gas (flame cutting) is optional on all KOMATSU models, increasing cutting capabilities on mild steel to 2"
"Power Up" upgrade. Converts your 200-amp plasma unit into a 300-amp unit. Increases your cutting capabilities to 1.5" on mild steel.
Special Features
KOMATSU is a single source supplier: Machine Software, Plasma supply, torch, applications, Consumables, Service parts, Onsite-Service and Technical support. We are not an integrator.
2 in 1 torch design Plasma & Oxyfuel on the same torch, offered on all our TWISTER models. No dead zones on the table.
Single cartridge consumable design, up to 60% more pierce life than conventional consumables (available only on 200A & 300A plasma units).
Patented push pull exhaust system: Ensuring no smoke ever leaves the table.
Patented 360 degrees torch collision detection system protection, with auto return to origin.
Automatic Argon marking System.
Patented "Quicksilver" process, clean cut stainless and aluminum up to 1″
Automatic "Anti-Spatter" system.
15" Fanuc Touch Screen Display, iH-Pro.
Real time process data on display.
Universal design concept.
CCD Camera, adjust & improve positioning while looking at monitor.
Barcode reader scanner included. One touch job loading and registration.
Part Photos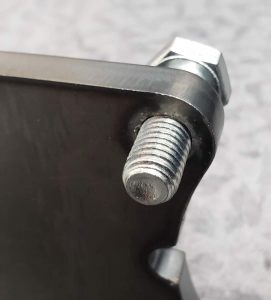 Included with purchase
KOMATSU complete cutting table system (unitized frame design).
Striker CAD/CAM Smart Nesting Software, SS-NEST.
(NOTE: Original KOMATSU Nesting Software included with the equipment, as well as).
Consumable Starter kit.
2 Year warranty on all machine components under normal working conditions.
Installation & training (1 week).