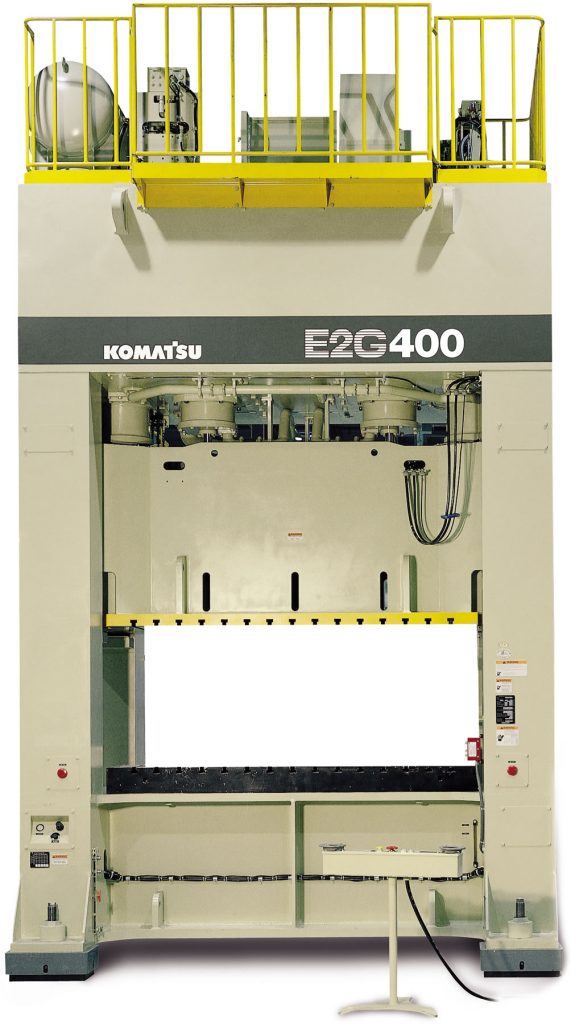 Komatsu offers a complete line of straight side presses from 121 tons to 4000 tons, with slide connections from single point to multi-point and multi-side. Frame designs from solid, 1 piece unitized body to full tie rod construction, all with wide windows to utilize the full width of the bolster for maximum flexibility. Every Komatsu straight side press features a plunger guided slide for a guaranteed minimum 30% longer die life, "keyless" splined power shaft connections, hydraulic slide lock to eliminate slide "creeping"– causing die height changes in heavy blanking operations, and force-cooled hydraulic clutch & brake for virtually maintenance free operation and the highest single stroke rating in the industry. Press drives are available in eccentric or link motions, with precision helical gearing hardened and ground running in oil. Rounding out this press system is Komatsu's own SIT-II press control with 100-job memory and "built-in" automation features as automatic single stroke operation mode, programmable die protection, 2-channel electronic load monitor, and interfaces for both light curtains and for coil line.
At Komatsu, high performance should not be optional.
G Series Straight Side Mechanical Press
Designed for Superior Reliability, Consistency and Versatility
Ideal for progressive, transfer and manual die applications
Full tie-rod construction with hydraulic tie rod nuts for superior rigidity
Single and double gear reduction to suit various applications
Superior frame rigidity characteristics
Superior off-center load characteristics
Increased bearing area for slide guidance
Faster stopping times with real-time display per stroke
Higher production rates in single stroke mode
Improved and consistent part quality
Increased die life
A Higher Level of Standard Equipment for Increased Performance
Massive heavy-duty fabricated design
Single piece fabricated slide with reinforced plate construction
Bolster thickness exceeds JIC standards
Wide windows for transfer and progressive die applications
Precision plunger guide design
Precision oil lubricated gibs with controlled oil flow bronze liners
Hardened and ground helical gears with splined connections
Motorized slide adjustment from operator panel
Hydraulic slide lock mechanism
Pneumatic air counter balance
Variable speed main motor
High torque hydraulic clutch and brake
Automatic flywheel brake
Quick responding, dependable hydraulic overload protection
Free standing electrical console with operators control station
T-stand for easy set-up and operation
100 job memory
Die safety block with electrical interlock
Standard Features
Standard Features
Engineered quality.
The Komatsu M-Series two-point straight side press utilizes full tie rod construction with hydraulic tie rod nuts to assure the highest level of rigidity and guaranteed performance. The cross sectional areas of the columns combined with the large tie-rod diameters assure the superior strength necessary for consistent part quality. The massive cast or welded bed (per tonnage) maintains total bed deflection within 0.0008-0.015″/ft (per bed size) under full load. This combination of power and precision is ideal for higher speed progressive applications utilizing costly carbide type tooling. Komatsu utilizes the cast-frame design technology by engineering the fabricated slide as a true box-type design with reinforced plates. This construction provides minimal deflection and consistent precise parallelism to the bolster under varying load conditions.
Wide-Set Points.
The relationship linking the distance between the slide connection points and the varying workload in the die is basic to part quality and tool life. Too large a point distance cannot withstand concentrated or "off-center" loads, whereas too close of a spacing can induce additional slide tilt and stress on the main shaft. The connection point spacing on the Komatsu M-Series is designed to provide optimum spacing of the connection points to assure top-quality progressive and transfer die operations; the best balance for both conditions.
Rigidity.
The height of the bed and slide is greater than other presses providing optimal vertical stiffness against the die workloads. Additionally, the oversized bolster thickness contributes to added part rigidity. The crown is doweled to the columns for optimum alignment and minimal clearances compared to standard keyed construction. Dynamic Balance (link motion models) is another featured device that counter balances the effect of the extreme inertia of bottom to top motion. These Komatsu designs ensure uncompromising accuracy and part consistency stroke after stroke.
Large Window Openings.
Wide windows permit wider material to be used for coil-fed or higher speed progressive applications. This inherent versatility removes the limits of material width and allows your press to be more productive.
Higher torque for maximum power transfer.
Komatsu incorporates a unique center drive design delivering superior performance and maximum power transfer under the most severe workloads. Unlike typical end-drive designs, the Komatsu center drive design provides equal spacing to both connection points. This optimal balanced condition results in superior handling of off-center loads, minimal torsional twist on the main shaft and equal torque at both connection points. Eccentric shafts are employed due to their high torsional rigidity and low deflection characteristics compared to conventional crankshafts.
Splined Connections.
The eccentric shafts are connected to the main gear by a spline. Hardened and ground helical gears with splined connections provide the most efficient and consistent power transfer utilizing balanced precision contact points. Splines eliminate the rolling and slipping inherent to less costly keyed or taper locked connections.
Configurations.
There are two standard drive configurations to suit various applications.
Eccentric Motion.
Provides a smooth slide motion velocity throughout the stroke with higher SPM range for typical progressive die applications of blanking and shallow forming.
Link Motion.
The velocity of the press slide slows near bottom of the stroke reducing the "touch speed" in the "working cycle" of the stroke. Reduced slide velocity in the work cycle provides reduced snap through shock for longer tool life along with corresponding better part quality. The link motion allows the slide to dwell longer near the bottom of the stroke, hence the part remains in the working cycle of the stroke longer. This resulting "longer pressing time" is an added benefit especially in coining and forming applications where slower speeds are preferred to allow material to properly flow or set, providing highest accuracy and associated part quality. However, the overall cycle time is not increased as the upstroke speed is increased to compensate for this dwell.
Patented duel-dynamic balancers are employed to counteract the effects of the higher upstroke velocity and maintain smooth slide motion on the upstroke.
Better cooling for productivity and reliability.
The multiple disc hydraulic clutch and brake provides the highest single stroke rates and fastest stopping times in all modes of operation. Through decades of field experience in heavy construction equipment, Komatsu employs a patented oil flow pattern to force oil out quicker from between the discs. Circulating oil throughout the unit and forcibly cooling it through a radiator on the crown does additional cooling. Conventional air friction clutches on aircooled clutch and brake units cannot dissipate the normal heat build up inherent in press operation fast enough to offer the higher stroke rate required in auto single or robotic applications. Additionally, the Komatsu design includes a quill mounted fly wheel with the drive shaft supported on oversized taper bearings for increased bearing area and increased heat dissipation.
Lubrication and filtration for hassle-free maintenance.
The oil for the clutch and brake, drive train and slide gibs is circulated through a 10 micron filter to catch any solid contaminants. The only maintenance required for this closed system is annual fluid changes.
Designed for high precision and less die wear.
Thrust load from eccentric motion is absorbed by the plunger guide system. The plunger guide is the primary guiding force, preventing side load on the gibs. A size-specific plunger guide is engineered for each different press model, providing maximum performance for each unit. Komatsu employs full length housing gibs guaranteeing the slide gibs always maintain contact through the stroke. The 8-point gib system employs forced oil lubrication rather than grease for optimum close gib tolerance settings. This combination of plunger guide and oil lubrication provides gib life 200 times longer than non-plunger guided systems. Together, the plunger guide and gib surface area add up to 4-5 times the guiding surface area. Less routine gib maintenance, less die wear and higher part accuracy are the positive end result, which can translate into improved profits for you.
Consistent quality without die adjustments.
Motorized slide adjustment with electrical upper and lower limit travel protection is employed in all Komatsu presses. The die height indicator is calibrated in 0.001″ and is digitally displayed on the operator control panel. Rather than relying on the mechanical brake of the slide adjust motor to maintain the selected die height, Komatsu incorporates an automatic hydraulic locking device. Using hydraulic pressure, this locking nut clamps the adjustment screw in two directions removing all clearances and eliminating the movement of the screw caused from normal snap through forces. This design assures consistent part quality eliminating the need for periodic die height adjustment.
Helps prevent damage to the press and dies.
All Komatsu presses are equipped with a hydraulic overload protector, a standard feature that has been standard for decades, helping to protect against damage to the press or die sets. If the rate load is exceeded, the press stops automatically. Since the hydraulic pressure can be released easily, operations can be resumed quickly even if jamming occurs.
Advanced electronics technology provides user-friendly operation and outstanding reliability. The electronic press control unit is designed to provide the fastest, easiest, and most reliable control available for all press functions. Included as standard equipment, the press control unit incorporates all the latest thinking in press control unit design.
Information necessary for press set-up, start-up, operation and diagnostics is available in one display, at the touch of a button.
Language terminology and graphics are user-friendly, easily understood by the press operator in plain view in one central location on the digital display. Display also includes plain language description of fault messages.
The press control unit has the ability to integrate with other press room equipment, such as electronic coil feeds and material handling equipment.
Operator "T-stand" control interface houses all switches and push-buttons required for ordinary press set-up and operation, including a key switch and up/down adjust push buttons for slide adjustment.
Die Data Recording function can store and retrieve data for 100 dies. This digital display shows "stored" press speed, actual press speed, crank angle, cam and fault detection angle as well as production performance.
Alpha-numeric entry of die name and memo data for easy cataloging and referencing.
Digital Total Counters

1-Production, re-settable
1-lot (pre-set), re-settable

4 – Electronic rotary cams
1 – Pneumatic air ejector with cam
Mode Selections: (1) Off, (2) Inch, (3) Single Stroke, (4) Continuous
Optional Modes: (1) Automatic Single Stroke, (2) Automatic Continuous
Simple guidance.
The press control unit displays operational procedure guidance for select press functions. Intuitive, user-friendly prompts guide press operators in a logical series of steps, for faster, more reliable press set up and operation.
Extensive use of electronics gives outstanding reliability.
Solid-state control with surface mount technology
Integrated Circuits are used for all control circuits
Cross-checking duplex circuits for clutch brake control are used on each stroke (patented)
Digital display for improved operation performance. Digital display of the crank angle and electronic angle detectors provide increased accuracy for press operations. Automatic operation setting and die set-up functions are easier an faster for press operators, with precise, reliable settings every time. To protect the integrity of all electronic systems and provide additional safety, monitor lamps indicate defects in circuits of all electronic systems, and faults are detected instantly.
Optional Features
Optional Features
Electronic Load monitors are available to continuously monitor loads in all press operations, including blanking, bending, drawing, etc. The monitor also detects die overloads and underloads during operation. In addition, balanced die load is achieved by measuring the off-center-load, thus extending press and die life.
Emergency Stop Receptacle
Pneumatic Die Cushions
Vibration Isolation Pad
Slide Knockout (mechanical)
Quick Die Equipment

Hydraulic die clamps available in either lever or cylinder type
Hydraulic die lifters
Mechanical draw out rails (note: re-machining of "T" slots may be required)

Photoelectric Safety Equipment
Additional set of 4 Electronic Rotary Cams
Air Ejector with Cam
Die Protection System
Quick Die Change Interface
Coil Line Interface
Graphic Load Monitor with Reverse Load
Warning – For protection of the operator, point of use guards should be used at all times. Komatsu presses do not include O.S.H.A. recommended point of protection guards.
Note – Brake monitor and control reliability. This control meets the current requirements of O.S.H.A. Standards Section 1910.217 and ANSI B11.1.
Automation Complete turn-key Komatsu-designed press systems including coil lines, die carting and systems engineering tailored to your specific application.
Catalog and Specs
Catalog and Specs
Komatsu Warranty
The Komatsu Warranty
When a press is designed as a system, it should be expected to perform as a system without routine tear downs for wear items (the conventional "weak link" in our competitors' presses.) That's why every Komatsu Press comes with a Two Year Unconditional Warranty on anything that rolls, slides or moves – parts and labor. Unlike other manufacturers, there is no hourly limit – your press is guaranteed to perform 3 shifts a day, 7 days a week, 365 days a year. With Komatsu systems engineering it's possible to extract the full potential from your press, and the full revenue potential from every job.