NTC America—Laser Group, headquartered in Novi, MI, presents its most versatile performer with the TLM Series 5-axis, three dimensional CO2 laser processing centers. The TLM Series, of which there are six working sizes and four power options, incorporate features such as PC based control system using a Windows® operating environment, non-contact gap sensor technology, controllable optical head angles, and operator friendly joystick and hand-held pendant—along with a teach mode that all help in making complex and intricate cutting simple.
The TLM Series was developed to provide, through simple programming and operation of integrated motion and laser systems, high-productivity performance in cutting complex parts, to generate intricate beam paths and to adapt laser parameters to various cutting requirements.
The TLM laser series is versatility –based as demonstrated by the six models that make up the line. Table sizes, and full stroke work envelopes, range from 51″ x 51″ (1,300mm x 1,300mm) to an expansive 110″ x 169″ (2,800mm x 4,300mm) while vertical travel of its Z-axis is up to 31″ (800mm). Within the size ranges are four laser power packages…starting at 2.5 kW as standard with 3.3, 4.0, and 6.0 kW power as options—sizes for the largest of part requirements and power for fast, deep penetration cuts.
A welding function is also available with automatic setup for power ramping and welding gas control as well as a sixth axis command for use with a rotary table or other workholding devices. Combined with its controllable optical head angles of +200o (359o optional), and rotation of +180o, the TLM can operate in virtually all cutting or welding applications.
The TLM also provides precision cutting, established first on its bridge-style construction, solid base and rugged table, that are the foundation of its operating accuracies. The construction features are matched with AC servo motor drives, ball screw feeds and linear ball guide mechanisms that provide movement tolerances of +0.0012″ per 12″ of travel distance (+0.03mm per 300mm). To assure consistent beam penetration despite material variable and form irregularities, the TLM's non-contact sensor, unaffected by side surfaces, monitors and provides rapid response to changes in the gap between optics and material to maintain the beam's optimum focus.
The third element of the TLM Series' performance is speed. Rapid feeds for the X & Y axes of up to 1,575″ per minute (40,000mm/min), and 1,181″/min (30,000mm) in the Z-axis, along with head positioning, featuring precise, single-point steering of 250o per second. The operational speed, coupled with the beam power and focus, can be accurately controlled for cutting rates of from 1.18 inches to 1,181 inches per minute (30mm to 30,000mm).
The TLM Series has additional features to assist in programming, setup and to run parts efficiently. Its PC-based controller using a Windows-based operating system is readily familiar, while its software, with a multitude of built-in functions and calculations plus interactive guidelines are tools for easier programming. The advanced teach mode, using a touch probe that replaces the optics with quick, under a minute changeover, measures points along work surfaces to generate cutting paths. In addition, the control incorporates memory storage for multiple part programs and includes integral subroutines such as linear, circular and spline interpolations, copying and mirror shaping, pattern downloading, circular cutting and corner rounding from center point definition, scheduling parts and operations for unattended production. NTC also offers optional material loading and stacking storage devices that can assist in the production convenience and economics of unattended operations.
In addition to the TLM Series of laser processing centers, NTC America's lineup of laser products includes the TLZ Series 2-dimensional, 3-axis systems with flying optics, the TLV Series 3-axis hybrid machines for large, wide work pieces, and the TLX Series high power, 3-axis models in cantilever and gantry configurations.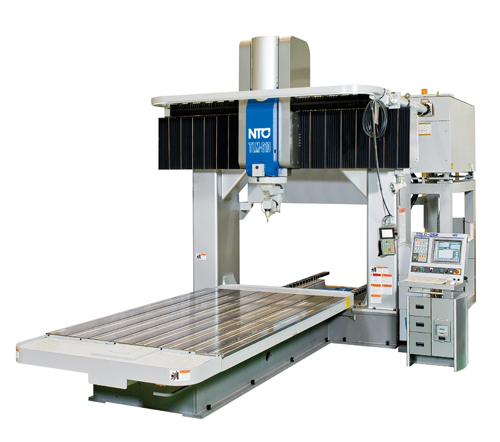 The TLM Series of CO2 5-axis, 3-dimensional laser cutting systems from The Laser Group of NTC America, is a versatile performer providing six working sizes and four power options in the series along with speed, precision and user friendly ease of operation to make complex applications and intricate 3-dimensional parts fast and easy.