NTC America—Laser Group, headquartered in Novi, MI, has a lineup of advanced laser processing systems that includes the TLZ Series CO2 3-axis laser cutting machines…machines that have launched the age of ultra-speed laser processing. The TLZ series features a gantry-style rugged construction, flying optics, shop-hardened operating system and precise accuracies, but it is the speeds, surpassing competitive laser systems, that set the TLZ Series apart.
The TLZ Series provides cutting rates of up to 40,000mm (131 feet) per minute along with rapid traverse speeds of 100,000mm (328 feet) per minute in the X and Y axes, and 60,000mm (196 feet) per minute for the Z axis. These speeds are kept in check with AC servo drive motors, rack and pinion and linear ball guide mechanisms for precise, controlled machine movement. The drive devices are isloated so vibration is minimized to keep cut edges sharp and accurate.
With responsive control, precision and power along with the flexibility of a dual pallet changer to meet demanding productivity requirements and high quality standards, the TLZ is ideal for large, thick plates or delicate thin sheet metals, exotic alloys and non-metallic materials, and intricate shapes. High power lasers, selected with respect to applications criteria, assure penetration and piercing to cut all types of materials. Laser power options are available with up to 5.0kW output that, when coupled with flying optics and features such as a non-contact gap sensor, side gas assist, and auto focus, assure cutting integrity. An automatic pierce sensor and retry function are also available.
Complementing the series' speed and powerful laser output are two model choices with work envelopes that fit a majority of application needs. The TLZ-408 provides a 98″ x 49″ inch (2,500mm x 1,250mm) cutting stroke; the TLZ-510 model has 122″ by 61″ (3,100mm x 1,550mm) axis movements, and both models have a 100mm (4″) vertical stroke of the optical head.
The TLZ Series provides tight tolerances with positioning accuracy of +.002″ per 20″ of travel (+.05mm over 500mm).
Controlling this performance is a single but advanced CNC unit that features one-touch function and programming of most operations, eliminating multi-key data entering and helping to error proof setup procedures. The control programs, directs and monitors all machine functions, positioning, laser output, and process parameters. The CNC is matched with NTC's innovative laser processing software that has built-in subroutines that include calculations and functions for circle, arc and linear interpolation, mirror imaging, an extensive cutting parameter library as well as scaling, automatic skew compensation, part program storage recall and a comprehensive self-diagnostics package.
Performance is heightened with features such as the extra wide, non-jamming conveyor that keeps trimming scrap moving, the power assist work piece lifter along with open access helping to make loading and unloading easier, and the dual pallet changer that moves both pallets simultaneously for faster changeover. Auxiliary material handling options are available for the TLZ systems, including multiple level storage shelves/loaders, that permit automated, unattended operation.
In addition to the TLZ Series ultra high speed systems, NTC America's lineup of laser products includes the TLV Series 2-dimensional, 3-axis hybrid systems, the TLX Series 3- axis gantry-design machines for large (up to 15′ x 100′) workpieces, and the TLM Series of high power CO2 machines with bridge-type construction and 5-axis control for precision cutting and welding of 3-dimensional workpieces.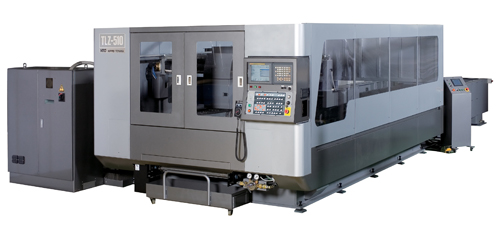 NTC America—Laser Group TLZ Series of 3-axis laser cutting systems features bridge-type design, shop-hardened construction, precise accuracies, and unprecedented speeds—cutting rates of up to 40,000mm (131 feet) per minute along with rapid traverse speeds of 100,000mm (328 feet) per minute in the X and Y axes, and 60,000mm (196 feet) per minute for the Z axis.