First-of-its-kind press line soon to be followed by a few more.
BY RAY CHALMERS, Contributing Editor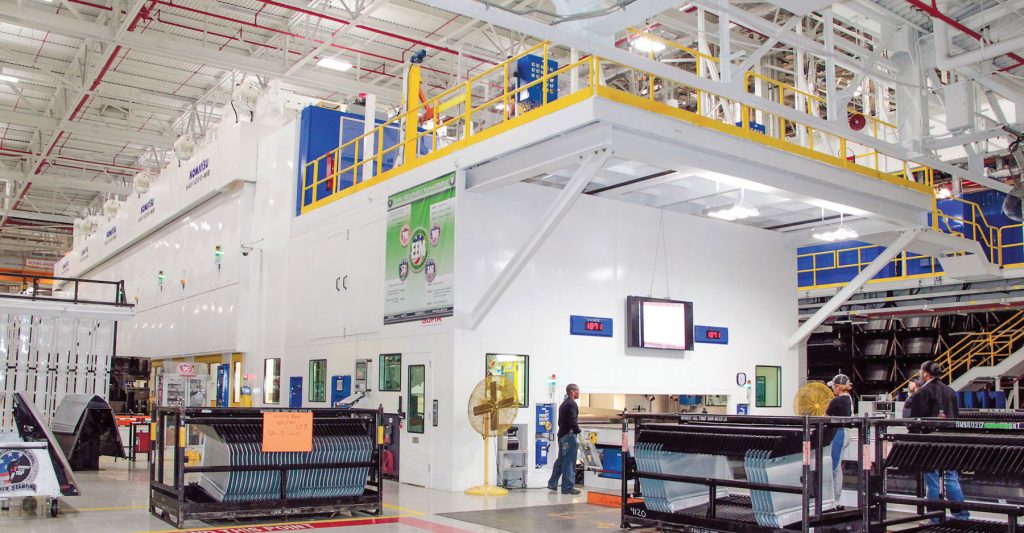 There are increased speed, higher efficiency, improved energy use and enhanced safety, but Doug Goimarac, press center manager at Fiat Chrysler Automobiles (FCA US) Warren Stamping Plant in Warren, Michigan, is vehement about quality. Responding to a question about the drivers behind the plant's $63-million investment in expanded capacity and a brand-new servo tandem press line, he simply replied, "Quality sells vehicles. For stamping, we have higher first-time quality now than we've ever had."
Warren Stamping's new 180-inch press line from Komatsu (komatsupress.com), which started up in late January, is replete with technical advantages. All dies, automation, sheet stacks and control settings are computer-controlled and designed to change jobs automatically. "With timing, coordinated effort and preparation by the press operation crew, the line automatically prepares all systems for making the next group of parts," says Doug Klumb, sales manager at Komatsu America's large press division. Die change occurs in a sequence of simultaneous motions taking place in under four minutes compared to more than 20 for Warren Stamping's existing lines.
The "servo" in servo tandem press line refers to servo motors and drives that provide 100% programmable control and movement of each press ram at any position in the press stroke, compared to a mechanical press operating at a fixed speed. The new press line is the first of its kind at Warren Stamping and the entire FCA North American stamping operations, although three more will be in operation at FCA's Sterling Stamping Plant in Sterling Heights, MI, later this year. For Warren, the new press line increases capacity by up to 12,000 hits per day, or approximately 3.6-million parts per year. The Warren plant, which also has 12 other major press lies and three large progressive press lines, has a total plant capacity of some 84-million parts per year.
FCA US announced the $63-million investment in Warren Stamping in 2014 and began sending employees to Serbia for initial training on a Komatsu servo press tandem line there as construction began in Warren. Training also continued apace in Warren, as FCA US announced in October 2014 that the plant was the first stamping plant in the organization to achieve a bronze designation in World Class Manufacturing (WCM) ranking. People at the plant are now working to achieve silver. (WCM is based on metrics in 10 technical and 10 managerial categories.)
Initial results of the new press line should certainly help. It can run steel body panels at up to 18 strokes per minute (spm) and 15 spm for aluminum, in some cases twice the speed of existing plant lines, says Komatsu's Klumb.
Regarding energy use, the servo motors and drives act as generators when slowing, actually generating electricity during a portion of each press cycle and reducing total plant consumption. More efficient die change and modular press line design ease maintenance and repair, and quiet operation improves workplace safety. Indeed, standing next to Warren Stamping's Line 25 in operation, the sound of the adjacent Line 23 strikes the dominant note.
"We can run 10 jobs in the same press line, and the improved ability to go from job to job, all with fewer touchpoints, is critical," Goimarac says. He credits the press-to-press transfer as well-conceived, greatly reducing the number of times a blank is picked up and dropped.
And there's operator efficiency as well. "I can run a fender with four or five operators three times faster than the same process that used to take 30 people years ago," he says. When asked how this new press line positions his plant for the future, Goimarac replied, "The future is now."