Manufacturer joins others in the quest to improve part quality, tooling and cost efficiencies
By Lynn Stanley
George Washington once said, "Decision making, like coffee, needs a cooling process." The words strike a chord with Tom Simeone, second-generation owner and president of Manor Tool & Manufacturing Co. An engineering graduate of the University of Illinois at Champaign-Urbana, he recalls that one of his professors gave him a "cooling off" period to make a life-changing decision.
"I was on the fence," he says. "I didn't know if I wanted to continue my education at the graduate level and teach or join my dad [who started Manor in 1959]. At the time, I was working for a professor who gave me a one year option to make my decision. After six months, I told him, 'I'm sticking with family.' My choice was also heavily influenced by our employees. I later found out that my dad probably would have sold the business if I hadn't stepped up to take the reins."
Today, Manor houses punching, bending, forming, spot welding, deep draw stamping and assembly operations in its 44,500-sq.-ft., Schiller Park, Illinois, facility. Manor produces prototypes for short-run stampings and fabricates parts in high production volumes. Manor also builds tooling for parts and runs customers' dies in its 32-press production operation.
Nearly 30 years after Simeone's transformative personal choice, manufacturing needs put Manor at a crossroads of its own—one that would divert the mechanical press-dominated metal stamper away from flywheels to join what Komatsu America product manager George Schreck calls a "growing servo revolution."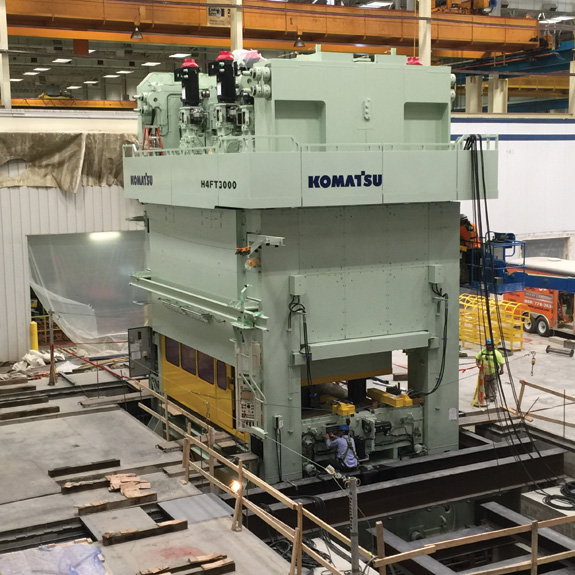 Longevity
"We were looking for a machine to back up our 400-ton mechanical press in the event we hit a backlog or the press went down," says Manor General Manager Kevin Segebarth. "We've had mechanical presses for 50-plus years. And we have tended to gravitate toward the used market for purchases because the iron ore sourced in the 1980s and earlier was fantastic. Press frames from that era have really lasted, allowing us to replace parts as needed."
But after looking at secondhand presses, Manor came up empty-handed. Used presses and press beds were too large for the company's needs. A look at new presses was also disappointing. "I can't tell you the last time we bought a new press," says Segebarth. "The side frames on the new mechanical presses were not nearly as robust as our cast frames, which made us leery."
That's when Manor management decided to consider servo technology. "We were aware of servo but hesitant about it because we didn't have an understanding of its capabilities and how it might fit into our production processes," Segebarth says. "Once I was able to get into the field, take a look at different servo models and the ways people were using the machines, I found it very eye opening."
Still, Manor's decision-making about servo underwent a "cooling process" that took roughly a year, says Schreck. "They looked at a lot of press OEMs," he notes. "They visited our demonstration facility in Elk Grove Village, Illinois, several times to kick the tires. We showed them how to operate the machine so they could experience what's under the hood that makes servo mechanical powered presses unique. Since Manor builds tooling in-house, we felt servo's unique capabilities would be a good fit."
Reputation, a robust press frame and smaller motors engineered and supported by Fanuc tipped Manor toward Komatsu. "We chose to partner with Fanuc because they offer worldwide parts support," says Schreck. "Customers don't have to send the motor back to its country of origin. Delivery-ready motors are a day away versus months."
Joining a revolution
Manor will install a Komatsu 2pt. 300-metric-ton unitized straight-side servo mechanical powered press this autumn. "We do a lot of draw work and cold forming," says Simeone. "It's why I thought we'd end up with a hydraulic press at some point. We always wanted one but could never justify the cost. Servo's ability to control ram velocity and stroke speed gives us everything that hydraulic and mechanical presses could and so much more. We think we'll be able to attract more draw work that is interesting and more complex."
According to Schreck, "Servo presses can fill in many of the functional gaps between hydraulic and mechanical machines. Although it can't draw as deep as a hydraulic press, servo allows you to vary slide velocity during the stroke [the punch] and dwell at any point in the motion path. This includes bottom dead center (BDC) at tonnage and reverse direction of motion, which allows multiple hits at BDC or different positions before BDC."
A hydraulic press has to work against material resistance, he notes. "As the ram comes down and touches the metal, pressure builds. When metal begins to form, resistance drops and the ram picks up speed again, repeating the process to continue forming metal."
With servo, continues Schreck, "You get tonnage through the bottom of the stroke whether you go slow or stop [dwell]. Instead of forcing material, the ability to change servo's profile and slide motion allows metal to flow for part making versus forcing it into form."
The ability to dwell or change the slide's velocity during the stroke also supports tool design and testing. Manor plans to run tooling designs through its new servo press, using different programs to determine whether it will improve piece parts. "We think we can combine capabilities in our tooling to eliminate secondary operations and help control part costs," says Segebarth, surmising, "We'll be able to design tooling that can optimize press performance and improve part quality."
Manor will be able to capitalize on what Schreck calls the servo effect. "Because we can control slide velocity, tonnage to make a part may be reduced, sometimes by 20 percent. Manor will [likely] be able to run most of the same tools in the servo press that they run on their higher tonnage mechanical presses."
Manor also has plans to run a wide array of materials through the servo press including hot-rolled and cold-rolled steel, high-strength steel and phosphorous bronze, nickel and stainless. "Komatsu's product specialists have us fired up about experimenting and trying new things. "We're just starting this journey, but we believe it will give us an edge for the longhaul. The bottom line? If we're not successful, our customers aren't; and that is our end goal."