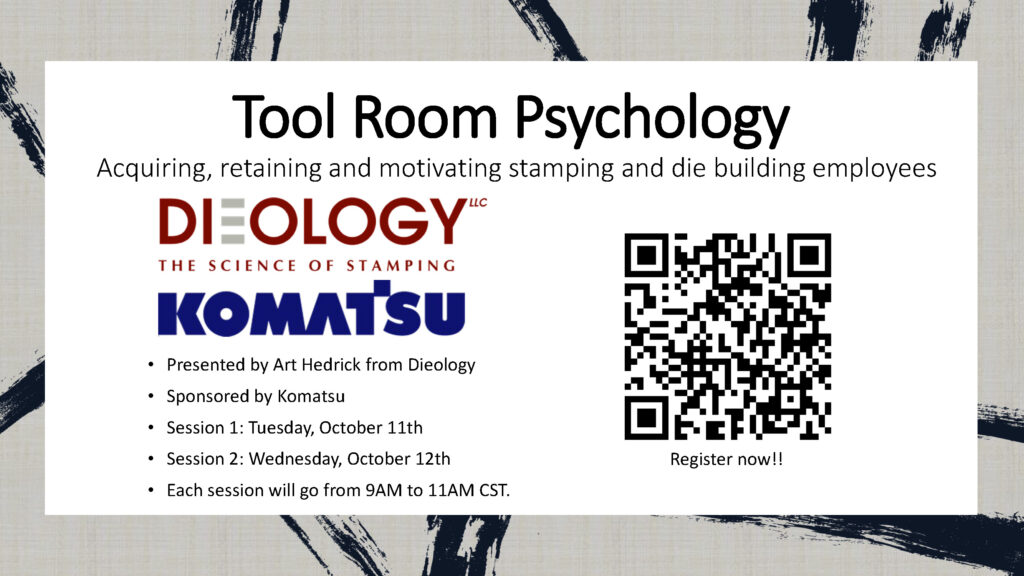 Introduction
As a professional consultant, several times a week I get this basic question:  Do you know of any good tool and die makers / engineers looking for a job?  The answer is typically no. "How about press operators"?  We just can't seem to find anybody to fill our open positions!" If we do get lucky enough to find someone, after we train them and get them up to speed…. they leave! This short 4 hr. session broken up into two separate 2 hr. sessions, will focus on the key communication and leadership principles that will help you to develop a culture that attracts and retains effective, productive employees. In addition, it will show you effective ways of positively motivating, encouraging and maximizing individual and team potential.
Schedule
Session 1 : Tuesday, October 11th
Session 2 : Wednesday, October 12th
*Each session will go from 9AM – 11AM CST
Agenda
Session 1
Looking for employees versus attracting /luring employees
Choosing the employee bait
More money?
Paradigms
Session 2
Words
Actions
Leadership models
Habits
About the speaker
Art Hedrick is the owner of the training and consulting firm Dieology, located in Greenville, Michigan U.S.A. He is a journeyman tool and die maker with over 40 years of metalworking experience. For over 23 years, Art has been the author of the Die Science column printed in The Stamping Journal ® and has authored numerous articles published on The Fabricator.com® Art, a past instructor at General Motors University, has been the recipient of many training & education awards. He has held chairmen positions of stamping councils with the Society of Manufacturing Engineers as well as Fabricators and Manufactures Association. Art has conducted over 300 stamping, product design, and tool and die related seminars for trade organizations and private companies. Currently he has over 175 clients in the auto, appliance, hardware, defense, electronics, space exploration and commodities industries. Art is active in metal stamping training and consulting world-wide.