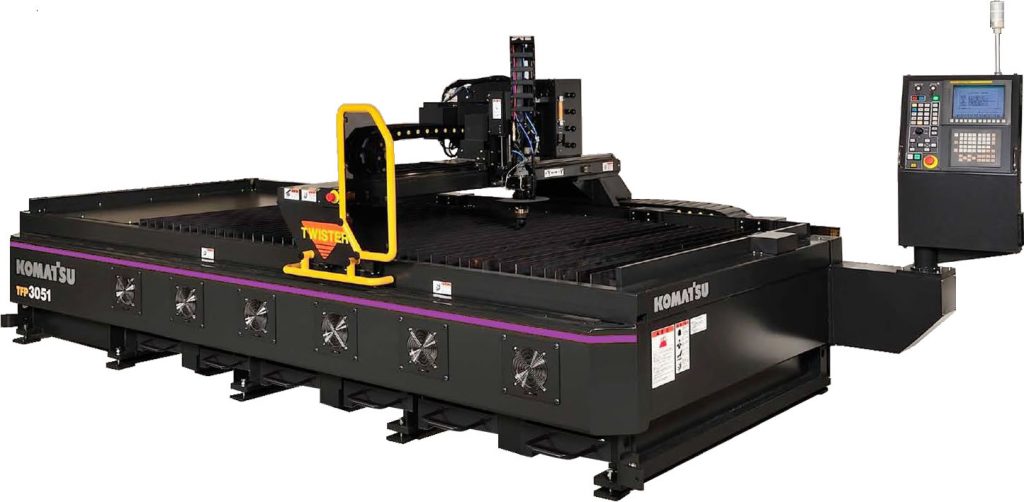 Superior cost performance and cutting quality comparable to laser cutting thanks to Komatsu's original technology.
Cost performance far superior to laser cutting and high quality work comparable to laser cutting. The advent of TWISTER fine plasma is changing the norm for cutting work.
High Productivity
Major improvement in cutting speed thanks to higher output power sources and high-speed twister gas. Better productivity than with laser cutting.
High Quality Cutting
Dross generated during plate cutting drastically reduced due to high-speed twister gas. Cutting quality comparable to laser cutting.
High Cost Performance
Massive improvement in cost performance over laser cutting in terms of both running and initial costs.
Cuts Mild Steel, Stainless & Aluminum
Download Catalog and Spec sheet
Specifications
Model
TFP3051
Plasma output power
kW
30
Amp
150
Max. material thickness
mm
25
in
1
Max. pierce thickness
mm
25
in
1
Cutting area dimension
(X,Y)
mm
3050×1525
in
120 x 60
Traverse speed
X-axis
m/min
25
IPM
1000
Y-axis
m/min
40
IPM
1500
Z-axis
m/min
10
IPM
390
Driving method
(X, Y,)
Rack&pinion+Linear guide
Driving method (Z)
Ball-screw+Linear guide
Positioning accuracy
mm
± 0.1
in
± 0.004
Positioning repeatability
mm
± >0.05
in
± 0.002
CNC unit
FANUC-21MB
The TWISTER TFP3051 featuring a 5 ft. x 10 ft. cutting area and 30 kW (150 Amp) Fine Plasma torch is available NOW!
The TFP3051 has a maximum working height of 5 in. (125 mm). The TWISTER TFP3051 with High Body Factory Installed Option extends the maximum working height to 11.8 in. (300 mm).
If you need larger table sizes or more power, check out the TWISTER TFPL Series featuring table widths of 8 or 10 feet, in 20 or 40 foot lengths, with either the 30 kW or 60 kW (300 Amp) Fine Plasma torch.
Specification is in metric units. Units in inches are approximate.
Technology in the TFP3051 and TFPL Series is protected by US Patents, and other Patents Pending.